Upcoming exhibitions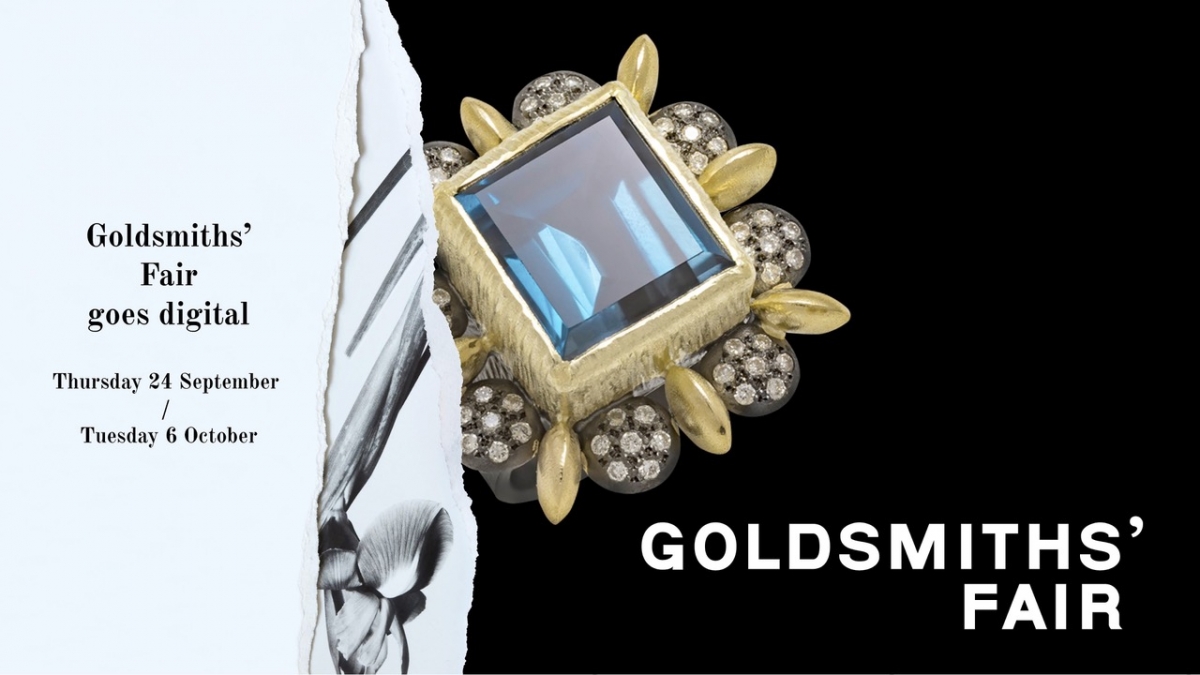 Alan will be taking part in the Goldsmiths 2020 virtual exhibition
Goldsmiths' Fair launches first digital Fair in 38-year history
Goldsmiths' Fair will provide a NEW online platform for fine jewellers and contemporary silversmiths in 2020
The online platform will support business recovery for sole traders and micro-businesses creating and making in UK today 
130 fine jewellers and contemporary silversmiths will exhibit at the online Fair 
Exhibitors use exceptional handmaking skills to create their pieces, applying techniques that have been passed down over hundreds of years.  
The Goldsmiths' Company is committed to supporting the craft and trade for the long term, as it has done for the last seven centuries. 
The Fair will open its virtual doors from 24 September – 6 October 2020
London, 19 June 2020: Goldsmiths' Fair, a selling event and exhibition for fine jewellers and silversmiths, is launching a digital Fair in 2020. The Fair will provide an online platform for around 130 exhibitors and established visitors, 9,000 of who ordinarily attend the live event at the Goldsmiths' Hall in the City of London, as well as to new audiences from around the world.
The Goldsmiths' Company, who run the event – an essential stop on the international fine jewellery and contemporary silver calendar – is moving the Fair 2020 and its programme of talks, events and exhibitions online, to support business recovery for sole traders and microbusinesses making and creating in the UK today. 
Harriet Scott, Head of Events at the Goldsmiths' Company who curates and manages the Fair, says: "This is a unique and exciting opportunity to accelerate our plans to expand the Fair online and make it more accessible to more people. Over 9,000 visitors came through the doors of Goldsmiths' Hall in London to attend the live event last year, and we hope that we will attract many more visitors in 2020 to the online Fair from across the UK and internationally. We are pleased that the digital platform has the full support of all our exhibitors."
---
PREVIOUS EXHIBITIONS
GOLDSMITHS FAIR 2019
Alan will be at Goldsmiths Fair, week 2, the dates are 1 - 6 October. The Fair is open from 11am - 6pm every day - exceptions are Thursdays open till 8 pm and Sunday we close at 4 pm 
---
Alan is also in process of writing two books on different complimentary aspects of his work
This is very unusual approach indeed I think it is unique within our subject.
The first Book to be called IN SEARCH OF THE BLINDINGLY OBVIOUS  is about Alans personal experience and approach to the Creative Process. The stories it generates, The Alchemical process of change one goes through.  How all these things contribute to a particular way of seeing and looking which are vital to the inner changes that must take place in order to grow and develop. How this affects the work one does for it is a two way process.
The second book is entitled " A LIFE OF ITS OWN" the focusses on the work itself, the pieces produced, whether for commission or for exhibition. This will be a large square format colour illustrated book the concept being that they form a pair. The book is primarily visual but will contain stories about the works, how they came about, the meaning to clients and the exploration and development of techniques. A chance for the work to speak for itself.
I envisage the 2 books being in the region of 30cm square and forming an opposing pair,  together creating a whole.
If anyone is interested in the project please get in touch through : contact me.  I would like get some idea of potential interest / possible publishers / distribution / together with any relevant personal experience which might be useful to the project.
---
GOLDSMITHS FAIR 2018
Exhibiting from 25th Sept to 30th  Sept 2018 - stand number 61 - in the front Drawing Room -
All opening times / talks / details of location are on their website.
---
DESIRE Jewellery & Silversmithing Fair
Chelsea Town Hall
Kings Road Chelsea
London SW3
From Thursday eve March 3 to Sunday March 5th 2017
 
---
PICTOREM GALLERY
383 Hoe Street
Leytonstone
London E17 9AP
The work will be a range of Paper Cuts both cut by hand and laser.
---
CAA
Contemporary Applied Arts
A L A N C R A X F O R D A T 70
Exhibition ran from 25 th January to 25 February 2017
10.00 till 6.00 Monday to Saturday
A SOIREE WS HELD TO VIEW & DISCUSS THE WORK IN COMPANY WITH ALAN.
5-7pm Wednesday 22 February 2017
89 Southwark Street, London. SE1 0HX
---
RHS Wisley 
30 th April to the 5 th May 2014 
Organised by British Silver Week, Big Glasshouse Exhibition Space
Hallmark
24th - 28th June 2014
Somerset House in London 
Goldsmiths Fair
30th Sept - 5th Oct 2014
Week 2  at Goldsmiths Hall in London 
---
Inspire
8th April - 12 April 2014
an exhibition of Contemporary Furniture and Silversmithing at The Goldsmiths Centre in London
10th - 13th May 2013 Jewellery Exhibited as part of Contemporary Applied Arts contribution to the "Collect" Exhibition at the Saatchi Gallery,  Chelsea,  London
2011 Jan / Feb
ELECTRUM GALLERY LONDON -
"A Sparkling Proposal" New Collection of A3 size Paper Cuts shown
2010 March
"Desire"
Richmond British Silver Week - work shown at four venues across the UK. Goldsmiths Fair at Goldsmiths Hall, City of London.
2009 June
BRITISH SILVER WEEK. Reworked Sushi and Sake Set and pair of creamers, exhibited as a table setting shown with
DAVID FOWKES GALLERY, Theorsby Park, Newark. Group of Spinning Bowls exhibited with PAYNE AND SONS, Oxford.
Sushi and Sake Set and group of other Silversmithing pieces shown with JOHN HIGGINS CONTEMPORARY SILVER in several locations.
2009 April/ May
"TRANSFORMATIONS" Solo exhibition at ROGER BILLCLIFFE FINE ART, Glasgow. 32 page colour catalogue produced available @ £6.00 Full spectrum of jewellery and Silversmithing pieces shown
2009 March/April
SILVER WITH A PINCH OF SALT, Pair of new Salt dishes for Exhibition at GOLDSMITHS HALL, work from contemporary makers shown in context of historical pieces.
2008 May HAMLITON AND INCHES London new Bowls and jugs. Part of BSW.
2008 May LESLEY CRAZE GALLERY "Fresh Forms" part of BSW 9 silversmiths
2007 Apr/May Solo exhibition of new silver vessels at ROGER BILLCLIFFE FINE ART, Glasgow. New work involving engraved and enamelled spinning pieces
2005 Oct/Nov "ON THE CUFF", major exhibition of cufflinks, wearers and makers, Goldsmiths Hall, London.
2004 Sept "LOOKING OVER MY SHOULDER", Lesley Craze Gallery, 20th anniversary exhibition
2004 Feb "COLLECT" at the V A Museum. Work including new neckpiece in 18ct gold, Pink Tourmaline, oxidised silver presented by the Metal Gallery
2003 Oct "ART AS A JEWELL" at the Metal Gallery, Mount Street, London W1. Two new Madala Brooches in 18ct yellow and white gold. Set with white and yellow diamonds respectively
2003 May "LOVE STORY" Goldsmiths Hall, London. Precious materials romance weddings. Client loaned their collection, some new work 2002 May-Sept EUROPEAN TRIENNALE OF JEWELLERY
2002 – Chateaux Seneffe, Belgium 2002 Oct Solo Exhibition at ROGER BILLCLIFFE FINE ART, Glasgow, Catalogue
2001 July "THE BRITISH ARE COMING" at Elleard B Heffern Inc., Saint Louis, Miss, USA 2000 Feb "SILVER 2000", Crafts Council Shop at Victoria and Albert Museum
1999 Dec "CONTEMPORARY BRITISH SILVER", Lane Crawford Department Store, Hong Kong
1999 Nov "One Man Exhibition", OXFORD GALLERY, Oxford, full-colour 16-page catalogue
1999 May "THE ART OF CUTLERY", Goldsmiths Hall, London, new Sushi and Sake sets made in sliver, gilt, ebony and maple - catalogue
1998 Nov "Objects of Desire", Roger Billcliffe Fine Art, Glasgow
1998 May "Tea and Silver", Goldsmiths Hall, new teaset in silver and ebony exhibited, extensive coverage in catalogue
1996 Feb Hilde Leis Galerie, Hamburg, Germany
1995 Aug "Herbst Messe", Frankfurt, Germany
1994 Nov "What is Jewellery?" Exhibition curated by David Poston. Jewellery from the point of view of the wearer. Crafts Council Gallery, London
1994 Aug "Chain Reaction" Exhibition of contemporary chains by leading makers, Scottish Gallery, Edinburgh.
1993 June "One-Man Exhibition", Electrum Gallery, London. Show of new work, hand engraved and carved in gold and silver, together with precious and semi-precious stones
1993 Mar "The Eye of the Heart" Cecil Collins memorial exhibition at Central St. Martins, London Institute, Kingsway, London
1993 Oct "From Paper to Platinum" A review of contemporary British Jewellery at Leslie Craze Gallery, Clerkenwell, London
1992 May "British Goldsmiths of Today", Goldsmiths Hall, London 1991 June "Twentieth Anniversary Exhibition, Electrum Gallery, London
1990 Oct Chelsea Comes to California - Orange County, California, selling exhibition organised by the DTI and Crafts Council
1986 "Precious Elements" An exhibition of contemporary British jewellery, Usher Gallery, Lincoln (one of my Mandala brooches used on all the publicity material for the exhibition)
1985 "ALAN CRAXFORD - Jeweller", VICTORIA AND ALBERT MUSEUM, one-man exhibition in the JEWELLERY GALLERY. NB - ELECTRUM GALLERY, London. ROGER BILLCLIFFE GALLERY, Glasgow - I am one of their regular gallery artists. GOLDSMITHS FAIR – I am a regular contributor over last 16 years